January 8th, 2011
Rep. Gabrielle Giffords (D-AZ) was shot in the head this morning during a public constituent meeting in Tucson. Thirteen others were wounded, and a nine-year old girl, a federal judge, and four others were shot and killed.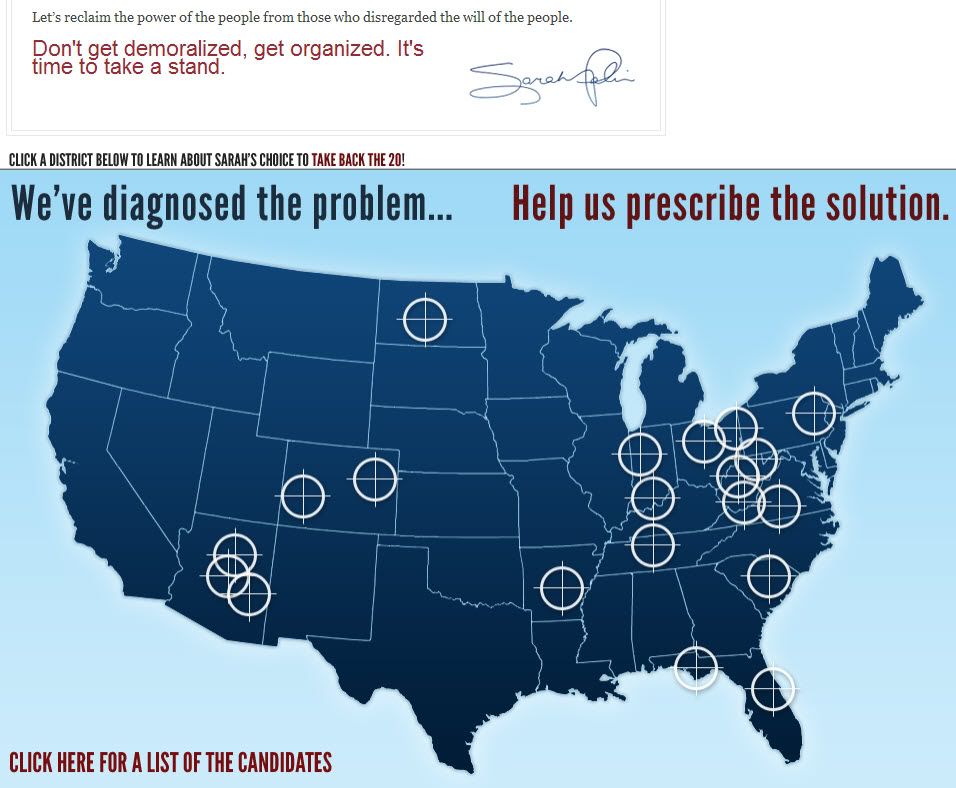 "We've diagnosed the problem… Help us prescribe the solution." – Heading on Sarah Palin's map of the US showing Democrats her PAC was targeting (including Gabby Giffords) with crosshairs on their districts   "OK, I will." – the suspected shooter, 22 year old 
Jared Lee Loughner
from Tucson (paraphrased) 
What, all you tough-talking extremists, did you expect
When you our country with violent rhetoric infect?
How many more times must such things take place
While you continue our polticial discourse to debase.
How many more peole have to die
While you continue, your rhetoric's impact to deny?
Wasn't the Tides Foundation attack enough
To get you your violent followers to rebuff?
Weren't all the death threats, vandalism, and calls for revolt
Enough to fill you with revolt?
I guess all that didn't suffice,
And now six dead and 14 wounded have paid the price.
Just because he wasn't carrying a copy of Sarah Palin's crosshairs map and chart
Doesn't mean they didn't in his action play a part.
But the problem with violent rhetoric is not just that one thing,
But an unbroken and continuous string.
It's happened before, and will happen again
Unless we this hateful and violent rhetoric end.
***
Here's Giffords during the healthcare debate talking about prior threats and violence against her.
Visit msnbc.com for breaking news, world news, and news about the economy
Update 1/11/10: Here's the excellent cover of the upcoming edition of The Stranger.
Sphere: Related Content
Tags: AZ, Gabby Giffords, Incitement, Jared Lee Loughner, Sarah Palin, Tucson shooting, Violence
Posted in National Security, What ails us | No Comments »
Get Music, Movies, and More With SuperPass - 14 Day Free Trial
Stream 7 million songs and download MP3s with free Napster trial

Comments
Leave a Reply
---