February 16th, 2011
Inspired by Boehner's selective fatalism (Dana Milbank, Washington Post 2/16/11) and John Boehner's funny numbers (Ezra Klein, WashingtonPost.com 2/16/11 10:25 am).
Boehner doesn't care if Obama's 200,000 new government workers go away
(Although according to BLS, federal job growth was only 58K).
Boehner doesn't know and doesn't care
How many jobs would be lost there.
According to Dana, the loss would be close to a million
(650K government and 325K civilian).
As Dana suggests, maybe Boehner wants the economy to stall.
That would help GOP 2012 election prospects, after all.
***
Here's Hardball's 2/16/11 report on Boehner's statement.

Visit msnbc.com for breaking news, world news, and news about the economy
Here's Rachel's 2/16/11 report on why the GOP likes the idea of government workers losing their jobs, showing the link between Boehner's statement and Wisconsin Gov. Scott Walker's union-busting.
Visit msnbc.com for breaking news, world news, and news about the economy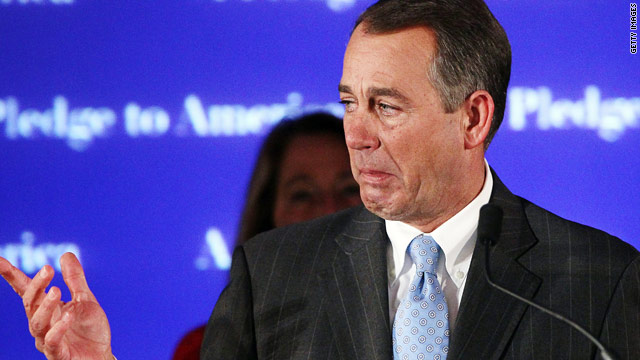 Sphere: Related Content
Tags: Budget, Chris Matthews, Dana Milbank, Ezra Klein, Government workers, hypocrisy, jobs, John Boehner, Petitions, Rachel Maddow, Republicans
Posted in Economy, Republicans | 2 Comments »
Get Music, Movies, and More With SuperPass - 14 Day Free Trial
Stream 7 million songs and download MP3s with free Napster trial

Comments
2 Responses to "So Be It (or: Jobs lost? Don't Know, Don't Care)"
Newsericks » Blog Archive » Comeback Says:
February 23rd, 2011 at 6:11 pm

[…] So Be It (or: Jobs lost? Don't Know, Don't Care) […]

Newsericks » Blog Archive » Job-Killing Republicans Says:
March 1st, 2011 at 10:45 pm

[…] follow-up to So Be It, inspired by GOP spending plan would cost 700,000 jobs, new report says (WashingtonPost.com […]
Leave a Reply
---