April 5th, 2012
I'm coming out with a bold prediction about how, when, and why Rick Santorum will drop out of the race.
 "After spending our most important Christian holiday deep in thought and prayer, I have come to the conclusion that it's best for our party and our country that I suspend my campaign, which I am doing effective today. It is in this spirit and following the example of He who sacrificed Himself for the greater good that I wholeheartedly endorse Mitt Romney, and pledge to unreservedly support his sacred mission to become the next President of these United States." – Rick Santorum April 10, 2010?
This weekend, Rick is taking a break,
Considering whether he wants himself out of the race to take.
But on the third day, will he rise again?
I predict he won't, but we won't know until then…
***
Here's your theme music, Should I Stay Or Should I Go by The Clash.

Here's Joe Scarborough's reasoning behind his and others' advice to Rick Santorum to leave the race before the PA primary: if Rick loses his home state, it will erase most if not all of the political and public opinion progress which Rick has solidified by his unexpectely good performance. Joe also provides a scathing (and I think correct) analysis (at the 6"45 mark of the second clip) of what Mitt will do if Rick stays in for PA. Given the propensity Romney has already shown for extreme and well-funded negativity, it's pretty likely that the only difference between Joe's salted earth Carthage advice and Mitt's plan is that Mitt hasn't openly discussed it like Joe is doing here.

Visit msnbc.com for breaking news, world news, and news about the economy
Visit msnbc.com for breaking news, world news, and news about the economy
Here's Chuck Todd's 4/05/12 panel discussion of Rick's possible thought process. Robert Chuck and Traynham hint at the possible importance of Easter in Santorum's thought process, but the real factor here is of course not inspiration, but rationalization: Santorum could just as easily come to the opposite conclusion (e.g., follow the example of He who was willing to sacrifice even His life for His beliefs and the world's ultimate salvation, doing what's right regardless of the cost). But at this point, it's no longer about winning for Rick or even denying Romney the nomination, since he no longer has much (if any) chance to do either. It's now about figuring out the best way to exit gracefully.

Visit msnbc.com for breaking news, world news, and news about the economy
Update April 6: I just heard about Bella Santorum's hospitalization. I know I've been tough on you, Rick, but I'm praying for you, your family, and for Bella on this one.
Update April 10: Bella is reportedly doing much better; she's been released from the hospital and is home with the family again). Rick Santorum is scheduled to make a campaign-related announcement at 2:00 p.m. today. Will it be his withdrawal announcement? I think it will, and now he has a further reason to do so: that would allow him to spend more time with his family (in this case, that old excuse would actually be a real reason). So, I hereby modify my prediction to add that when he announces his withdrawal, he'll also refer to spending more time with Bella and his family. Here's Now's 4/10/12 panel discussion of that.

Visit msnbc.com for breaking news, world news, and news about the economy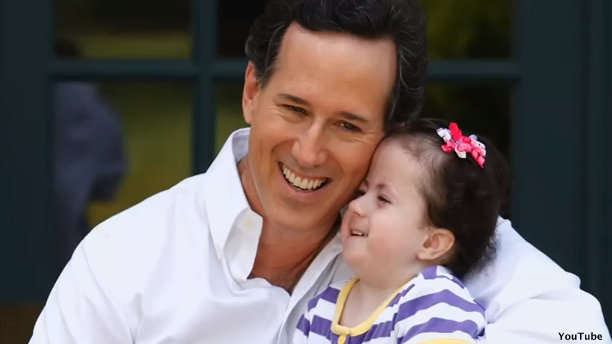 Sphere: Related Content
Tags: 2012 election, Easter, Elections, Predictions, Republicans, Rick Santorum
Posted in Republicans | No Comments »
Get Music, Movies, and More With SuperPass - 14 Day Free Trial
Stream 7 million songs and download MP3s with free Napster trial

Comments
Leave a Reply
---