March 21st, 2010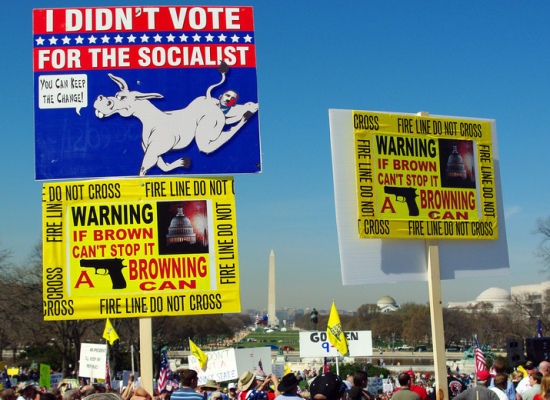 A follow-up to our earlier post If the Shirt Fits, inspired by Tea Partiers Call Lewis 'N****r', Frank 'F****t' At Protest (Talking Points Memo 3/20/10), Independent's Day: The rejection of political party extremes (Kathleen Parker, Washington Post 3/21/10), and  What America needs is a good civility committee (Dana Milbank, Washington Post 3/21/10). Rabidly anti-reform Tea Party protesters invaded Capitol Hill yesterday, hurling racist and homophobic slurs at black and gay members of Congress (the "N" word and "f****t"). One African-American lawmaker (Rep. Emanuel Cleaver, D-Mo.) was spit on by a protester.

"I haven't heard such talk since the civil rights movement." – Rep. Jim Clyburn (D-SC)   "We are about to unleash a cultural war in this country!" – Rep. Joe Barton (R-TX)
"People have every right to say what they want" – Rep. Devin Nunes (R-CA) (Washington Journal 3/21/10 interview)
"There were isolated incidents on the Hill yesterday that were reprehensible and should not have happened." – Minority Leader Boehner
 "The far-left is equally nutty, it goes without saying." – Kathleen Parker (Washington Post 3/21/10)
Republicans, is this your Party's heart and soul?
Do you really want these people to play a leading role?
This, Republicans, is the monster you create.
Sorry, but this is not healthy debate.
When you actively court these madmen and women
(Especially folks like you, Louie Gohmert and Michele Bachman)
You are unleashing a "cultural war"
The likes of which haven't been seen before.
(Although as Rep. Clyburn said, this kind of talk by "conservative" whites
Was also common during the movement for civil rights.
And "cultural" war is perhaps not the term that should be employed
When one of the sides is of culture so completely devoid.)
I know you don't care
About healthcare,
But I'd think you'd want to shun
This hateful trend you've begun.
I know you encourage the citizenry's revolting,
This kind of behavior is just plain revolting.
I know that you get more press if there's lots of drama,
But do you really need signs like "Buck Ofama"?
I know our current system has made Big Health wealthy,
But this kind of tactic is not healthy.
You should be distancing yourself from this whole movement
(Cutting of ties would be an improvement).
Teabaggers count in their ranks the racist and Holocaust denier.
When you play with these folks you're playing with fire.
And I for one would be concerned
That when you play with fire, people get burned.
PS to Majority Leader Boehner:
I appreciate your condemnatory remark,
But you raise a question mark:
What happened is part of what teabaggers represent,
Not just an isolated incident.
Most of them don't say it out loud,
But  there are plenty of bigots in that Teabagger crowd.
PS to Rep. Devin Nunes:
You, sir, should be ashamed
For suggesting that the protesters shouldn't be blamed.
You hawed and hemmed
When you should have condemned.
You suggest protesters were justified
By the "totalitarian tactics" Dems applied.
PS to Kathleen Parker:
It doesn't go without saying that the far left is "equally nutty,"
Nor are Dems (unlike the GOP) just extremist hand putty.
Like Repubs, Dems have some nutcases too,
But when you equivocate between the two
In the supposed interest of fair debate,
You downplay the impact of this Teabagger hate.
Yes, Dems have a few wackjobs,
But nothing like these disgusting Teabagger mobs.
***
Here's Rep. Tim Ryan (D-OH) condemning the racist homophobic slurs on the House floor and calling for those Republicans who recently addressed those same protesters to join in that condemnation. Hear hear!

Here's Congressman Devin Nunes (R-CA) on Washington Journal 3/21/10 justifying the use of the "N" word and other slurs by Tea Party protesters ( "People have every right to say what they want") as an understandable response with you use "totalitarian tactics." He also protested the suggestion (that no one had made) that he'd "stop short of characterizing the 20,000 people who were protesting that all of them were doing that" and that the left "loves to play up a couple incidents here or there…to draw attention away from what they're doing." And by the way, Representative Nunes, the "crowd" (which a conservative blogger initially claimed to be "over 100K" and Michelle Bachman said was 25K) was probably in reality just a few thousand.
Here's your theme music for today, Play with fire by the Rolling Stones.
And speaking of Independence Day, here's my favorite scene from that movie, with some Obama spliced in by a clever Youtuber. These are the messages that our leaders (real and imagined) should be promoting, not the message of hatred being spewed by these Teabaggers.
Sphere: Related Content
Tags: Civil rights, Dana Milbank, Gay rights, hatred, Healthcare, Homophobia, Incitement, Incivility, Intolerance, Obamahate, Paul Ryan, Racism, Republicans, Teabaggers
Posted in Healthcare, Republicans | 3 Comments »
Get Music, Movies, and More With SuperPass - 14 Day Free Trial
Stream 7 million songs and download MP3s with free Napster trial

Comments
3 Responses to "Health Haters"
Newsericks » Blog Archive » Bass-o-matic (or, Join the Tea Party) Says:
April 27th, 2010 at 11:58 pm

[…] Including the ones who spit on black Congressmen […]

Newsericks » Blog Archive » I'm Not Racist (I Just Don't Like Minorities) Says:
July 15th, 2010 at 2:30 pm

[…] We've sat here and we've watched as you called civil rights icons and Congressmen like John Lewis the "N" word and Barney Frank the "F" word. And what we haven't heard is them coming out and saying.. there is no space for racism in the […]
Leave a Reply
---