October 15th, 2012
Inspired by Charity president unhappy about Paul Ryan soup kitchen 'photo op' (Felicia Somnez, WashingtonPost.com 10/15/12).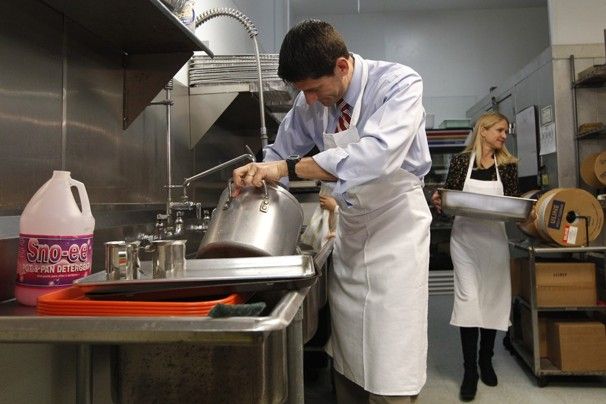 "But the Lord said unto Samuel, Look not on his countenance, or on the height of his stature; because I have refused him: for the Lord seeth not as man seeth; for man looketh on the outward appearance, but the Lord looketh on the heart." – 1 Samuel 16:7
In an attempt the meme that he's uncaring to allay.
Paul Ryan visited a shelter today
He put on an apron and washed a pot,
Helping clean up after dinner…not
It turns out dinner was long over and the dishes all clean–
A relief for Paul, since he was just there to be seen.
So, Paul just put on his apron and posed,
And thus his true colors exposed:
He doesn't care about you, but he's happy to pretend,
At least until the electoral campaign's end.
Though washing already-washed pots may seem a little strange,
It's just like their Medicare plan: change things that don't need change.
But in Paul Ryan's defense,
When it comes to pretense,
Cutting social programs to fund tax cuts for the rich
is a much worse offense.
***
Here's CBS's 10/15/12 report on Paul Ryan's fake visit to a homeless shelter today. That pan looks pretty clean already, wouldn't you say?
 

Sphere: Related Content
Tags: 2012 election, Bible, Elections, hypocrisy, Income inequality, Medicaid, Mitt's plan, Paul Ryan, Republicans, Shakespeare
Posted in Economy, Republicans, What ails us | 1 Comment »
Get Music, Movies, and More With SuperPass - 14 Day Free Trial
Stream 7 million songs and download MP3s with free Napster trial

Comments
One Response to "Fake Caring"
Newsericks » Blog Archive » Gimme Shelter Says:
October 17th, 2012 at 2:42 pm

[…] follow-up up to Fake Caring, inspired by Paul Ryan's visit to a homeless shelter […]
Leave a Reply
---