January 7th, 2010
Inspired by James Von Brunn Dead: Holocaust Museum Shooter Died In Hospital (Huffington Post 1/06/10), Accused Holocaust museum shooter dies in prison (WashingtonPost.com 1/07/10 3:03 am), Elderly Holocaust Museum shooter dies in hospital (Washington Post 1/07/10), and Erik Von Brunn, Shooter's Son: I Wish Dad Had Died Instead (Huffington Post 6/15/09, in particular Mitsy's comment).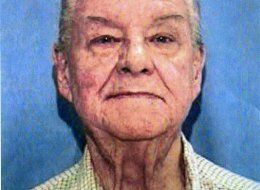 James von Brunn died yesterday.
His claim to fame: blowing a good man away.
Von Brunn walked into the Holocaust Museum.
Guard Stephen Johns graciously held open the door for him.
Von Brunn responded by shooting Johns down.
Mortally wounded, Johns fell to the ground.
Other guards returned fire and shot von Brunn in the head.
Both were rushed to the hospital; by day's end, Johns was dead.
But his killer lingered in his hospital bed.
Von Brunn's son said his father should've died instead.
Stephen Johns was buried, mourned by friends and family.
Von Brunn was moved to a prison hospital in Butner, NC.
For almost seven months, the murderer lived on,
While his victim, never forgotten, was gone.
Von Brunn was indicted on seven counts
Including first-degree murder, killing in a federal building, and hate crime.
But he didn't live to see his trial
(For that he died just in time).
Von Brunn had his own white supremacist web site and self-published an anti-Semitic book.
He felt he had to protect the white race, whatever it took.
But he wasn't targeting blacks that day, a fellow white supremacist relates.
He was just angry about the "Jewish takeover of the United States."
Von Brunn was "brilliant," added John (that same fellow hater),
Though now "we will never know" if von Brunn was the perpetrator.
I wonder if John would be less of a devotee
If he knew of Von Brunn's penchant for child pornography.
Von Brunn had already served a prison term he felt he didn't deserve
For an armed attempt to kidnap members of the Federal Reserve.
He was "convicted by a Negro jury, Jew/Negro attorneys, and sentenced to prison… by a Jew judge."
I guess he must have held a grudge.
But I'm sure von Brunn considered himself a good American,
Fully justified in taking his action.
Why, he thought his guns would be taken away by Obama.
Where could he have gotten that idea?
My family has visited the Museum several times.
When I drive past it I think sometimes,
That if my daughters had been there that day
Von Brunn would have killed them, if he'd had his way.
So please, pundits and politicians of the Far Right
That hatred and violence with your statements incite:
Consider the impact of the crazy things you say
On those who, like von Brunn, are prone to believe things like that anyway.
Do I mourn von Brunn's death? No, I can't say I do.
But I do mourn the fact that his bigotry and hatred continue.
I mourn a life wasted in hatred and bigotry's name.
And I mourn the victims, like Johns, whom that hatred will continue to claim.
Sphere: Related Content
Tags: DC, Family, Fox News, hatred, Incitement, James von Brunn, Racism
Posted in What ails us | 3 Comments »
Get Music, Movies, and More With SuperPass - 14 Day Free Trial
Stream 7 million songs and download MP3s with free Napster trial

Comments
3 Responses to "Death of a Hater"
Flyer Says:
January 9th, 2010 at 10:44 am

An excellent comment on the fruits of hatred. There have been few times in my 70 years that I have seen the flames of hatred fanned as much as now. We must speak out against this hatred as forcefully as we can. Otherwise, the flames will burn our country to the ground.

newseri1 Says:
January 10th, 2010 at 10:37 pm

Well said. I completely agree.

Newsericks » Blog Archive » Dallas Plus 47 Says:
November 23rd, 2010 at 4:23 pm

[…] Death of a Hater […]
Leave a Reply
---