January 9th, 2011
Inspired by Sarah Palin Aide Rebecca Mansour: Our Crosshairs Map Had Nothing To Do With Violence Or Guns (Huffington Post 1/09/11) and Palin Aide: Symbols Weren't Rifle Sights, but Surveyor's Marks (Atlantic Monthly 1/09/11) about Sarah Palin's attempts to retroactively spin her crosshairs map as surveyors marks.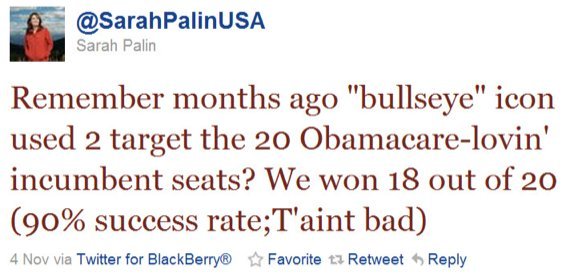 "We've diagnosed the problem… Help us prescribe the solution." – Heading on Sarah Palin's map of the US showing Democrats her PAC was targeting (including Gabby Giffords) with crosshairs on their districts
Sarah Palin and her staff are panic stricken
(That explains why the crosshairs map from her website was stricken).
She and her minions are trying to take it all back.
And convince people she in no way contributed to the Tucson attack.
It was surveyor marks, not crosshairs,
Her surrogate shamelessly declares.
The ad wasn't even done in house—
We'd never such a horrible thing espouse.
It wasn't our fault—we shouldn't be blamed,
And anyone who suggests that should be ashamed.
(Never mind that these claims are absurd
Because Sarah herself to "bullseyes" referred.)
Sarah and company, please stop your feeble attempts to deceive.
They won't change what we Real Americans believe.
***
Here's Palin media aide Rebecca Mansour on Tammy Bruce's pro-Palin radio show 1/08/11 making the surveyor marks claim.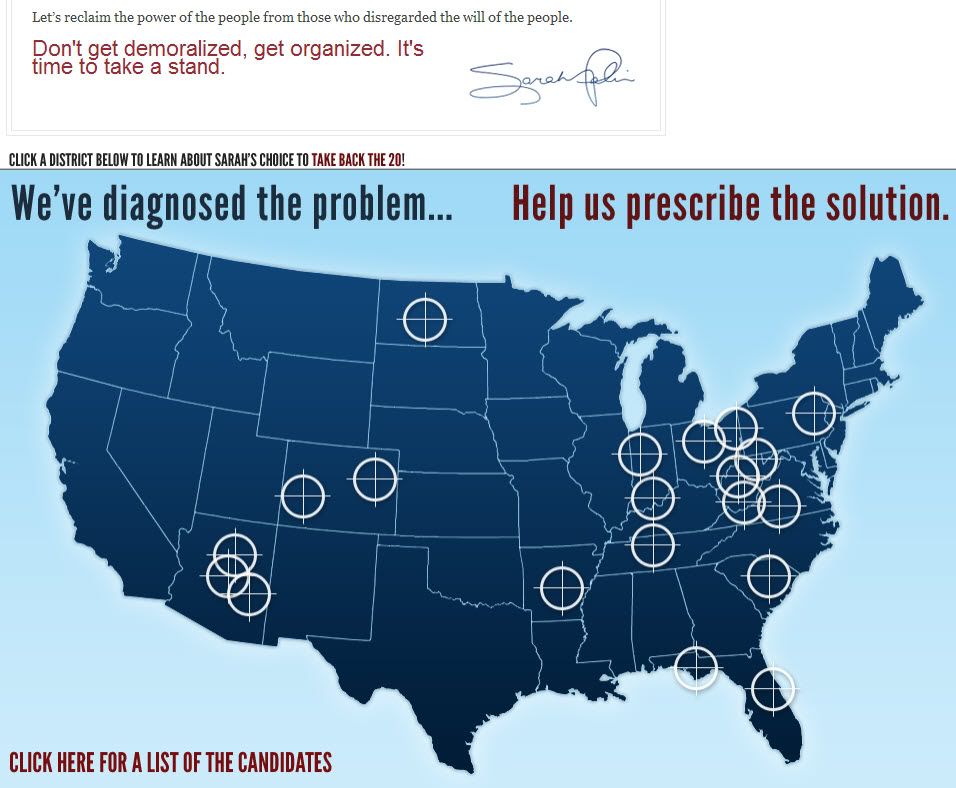 Sphere: Related Content
Tags: hypocrisy, Incitement, Sarah Palin, Tucson shooting, Violence
Posted in Republicans, What ails us | 1 Comment »
Get Music, Movies, and More With SuperPass - 14 Day Free Trial
Stream 7 million songs and download MP3s with free Napster trial

Comments
One Response to "Backpeddling"
Newsericks » Blog Archive » Enduring Strength (or: Together We Connive) Says:
February 5th, 2011 at 6:27 pm

[…] you spent all your time thinking and […]
Leave a Reply
---