June 28th, 2010
Inspired by Colleagues mourn longest-serving U.S. senator, Obama: Byrd's story was 'uniquely American', Biden: Byrd was 'a tough, compassionate, and outspoken leader' (CNN.com 6/28/10) and In depressed W.Va. coal town, Byrd's impact felt everywhere (WashingtonPost.com 6/28/10).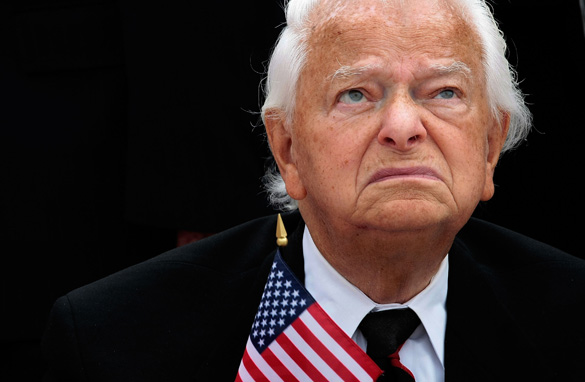 " If the United States leads the charge to war in the Persian Gulf, we may get lucky and achieve a rapid victory. But then we will face a second war: a war to win the peace in Iraq. This war will last many years and will surely cost hundreds of billions of dollars. In light of this enormous task, it would be a great mistake to expect that this will be a replay of the 1991 war. The stakes are much higher in this conflict." – Senator Byrd 3/13/03 on Larry King Live about the Iraq invasion   "I know now I was wrong. Intolerance had no place in America. I apologized a thousand times… and I don't mind apologizing over and over again. I can't erase what happened. "  — Senator Byrd in 2005 regarding his early support for and membership in the Ku Klux Klan   "There will never be nobody as good as Senator Byrd. He was an icon. … This infrastructure was got by a guy who dedicated his life to the state of West Virginia. We felt like he was something special because he would come here. Sometimes in his speeches, he would call Mingo County home." –Mingo County commissioner David Baisden on his way up the mountain road to the coal mine where he works as a part-time dispatcher
Senator Robert Byrd died early this morning.
Flags at the Capitol were set to half-mast in mourning.
Senator Byrd was 92,
First elected to Congress back in 1952.
He was pork's unchallenged King
And would put his name on almost anything.
He unabashedly funneled billions to his state
Which West Virginia voters thought was great
(As evidence of their great affection,
Byrd was elected 14 times, and never lost an election).
Byrd served in Congress for a record 57 years,
With a 51-year Senate record that no one else nears.
He wrote a book on the US and ancient Roman Senates
And was the unchallenged master of Senate history and procedural tenets.
Byrd was a Democrat, but his greater allegiance
Was to the state he represents,
Along with the Nation, the Senate, and the Constitution,
One of his favorite subjects of elocution.
Because of that, Byrd was one of two Senate Dems who attacked
The constitutionality of the DC House Voting Rights Act.
Unlike many Repubs who made that unconstitutional claim,
Byrd wasn't a constitutionalist only in name.
(While many of their references to the Constitution were hypocritical,
Byrd's constitutional stances were more apolitical.)
Byrd condemned the theory of preemptive attack
And strongly opposed GB2's invasion of Iraq.
Byrd criticized Bush's usurpation of Congress's right to declare war
And condemned what that Administration took us to war for.
(At the time that was a politically unpopular view,
And something that took a lot of courage to do.)
In December 2009, Byrd was seriously ill,
But dragged himself in to vote for the healthcare bill.
He dedicated his vote to "my friend Ted Kennedy"
Whose sickness and death had affected him greatly.
(Would Byrd have done so if the bill were unconstitutional as Repubs assert?
Would he have been willing, the Constitution to subvert?
I don't think so, which gives the lie to GOP propaganda
Repeatedly distributed as right-wing talking point memoranda.)
Byrd was an segregationist and KKK member in his early political life,
And opposed the Civil Rights Act of 1964 and Voting Rights Act of 1965.
Byrd later had a religiously motivated change of heart
And decided from his racist ways to depart.
He voted for the Civil Rights Act of 1968,
More equal rights for blacks to create.
He continued himself to reinvent
And eventually achieved an NAACP rating of 100%.
I respect that Byrd admitted his previously wrong-headed belief
And was willing and able to turn over a new leaf.
He changed, not unlike the Nation as a whole,
In which Byrd's long career played a positive role.
That, I think, is Senator Byrd's legacy:
Mixed, like the country's history,
But headed in the right direction,
And (at least sometimes) open to self-correction.
And so, Senator, you have my admiration,
And I thank you for your service to our Nation.
You served your country and West Virginia well and long,
And now those roads you built will take you back home, where you belong.
***
Here's a CBS retrospective on Byrd's life, including a clip of Senator Byrd playing the fiddle (a passion of his).
Here's Hardball's 6/28/10 report, including a clip of Senator Byrd's speech against the Iraq invasion, also the subject of Byrd's book Losing America: Confronting a Reckless and Arrogant Presidency.
Visit msnbc.com for breaking news, world news, and news about the economy
Here's your theme music, Senator Byrd at an informal office concert playing John Denver's Country Roads and other West Virginia classics, along with an earlier appearance at the Grand Ole Opry. The clip is set to start at Country Roads, so to see the Senator's Grand Ole Opry performance, just move the slider back to the beginning.

Also check out Senator Byrd's autobiography, Robert C. Byrd: Child of the Appalachian Coalfields, and the excellent Civil War movie Gods and Generals, in which Senator Byrd made an appearance (unfortunately, on the Confederate side).
Sphere: Related Content
Tags: Biden, Civil rights, Memorials, Movies, Music, Racism, Robert Byrd
Posted in Democrats, In honor of | No Comments »
Get Music, Movies, and More With SuperPass - 14 Day Free Trial
Stream 7 million songs and download MP3s with free Napster trial

Comments
Leave a Reply
---