March 3rd, 2010
A follow-up to my earlier piece Free in DC (written at the time of the DC marriage equality law's passage), inspired by the entry into force of that law today. For more background, see A Washington wedding (Washington Post 3/03/10) and Same-sex couples line up as D.C. gay marriage law takes effect (WashingtonPost.com 3/03/10).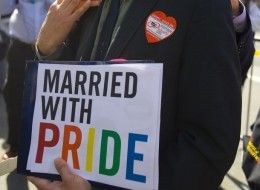 Today is the day
If you live in DC and are gay.
The DC same-sex marriage bill is now law.
DC gays can now legally marry, after all.
As a side benefit, Maryland now effectively gets marriage equality too,
Since getting married in DC is now all Maryland gays have to do.
The Maryland decision to recognize those unions (subject to appeal)
Makes the new DC law a two-for-one deal.
In the tri-state area, only VA marriage equality continues to deny
(Though "Virginia is for lovers," some restrictions still apply).
Will VA gays be forced permanently to MD or DC to go?
(To help change that, sign the petition below.)
As I said before, it's a victory for equal rights and the Constitution
To which I hope my blog made some small contribution.
But the real credit goes to DC Council Members and local activists
Who refused to let the issue be dismissed.
It's as if a magic door opened to let gays in
Someplace they should have already been.
(Now if only gay and straight DC residents
Could vote to elect more than just presidents.)
NB:
By "same as me"
I'm referring to Constitutional equality,
Not (as you might have assumed) same-sex proclivity.
As I've stated before, I'm straight,
So I didn't have to for my marriage equality wait.
***
Here's AP/Washington Post video of same-sex couples happily waiting to apply for their marriage licenses.
Speaking of a new dawn, here's your theme music for this post: Nina Simone's Feeling Good from the album I'll Put a Spell on You.

Sphere: Related Content
Tags: DC, DC vote, Gay rights, Marriage equality, MD, Music, VA
Posted in Freedoms | 2 Comments »
Get Music, Movies, and More With SuperPass - 14 Day Free Trial
Stream 7 million songs and download MP3s with free Napster trial

Comments
2 Responses to "A New Day (or, Open Same As Me)"
Newsericks » Blog Archive » Oh Happy Day Says:
March 5th, 2010 at 5:15 am

[…] A New Day (or, Open Same As Me) […]

Newsericks » Blog Archive » One Year of the Local Gay Agenda Says:
March 9th, 2011 at 3:32 pm

[…] by the one year anniversary today of the first same-sex marriage in DC, and by Same-sex couples drive doubling of wedding […]
Leave a Reply
---