April 4th, 2012
In memory of and inspired by Dr. Martin Luther King Jr.'s death 44 years ago today on April 4, 1968 at 6:01 p.m.
"How long? Not long, because the arc of the moral universe is long, but it bends towards justice." – Dr. Martin Luther King Jr.'s famous "how long" speech
44 years ago today on 4/4
Dr. Martin Luther King Jr. his beliefs died for.
44 Presidents ago, American Blacks were enslaved,
And beaten or killed when they misbehaved.
At the grand jury hearing next week, it'll be 44 days since Trayvon was shot
After being by an armed vigilante in the act of walking home caught.
I have faith that after that hearing, George Zimmerman will be arrested,
But it will only have happened because millions of people for justice protested.
It's like how Blacks weren't freed when America got a President instead of a King.
That took many years, many people, and Dr. Martin Luther King.
Whether 44 days, years, or Presidents, justice has been repeatedly delayed,
And our Nation's founding principles repeatedly betrayed.
But as Dr. King with his "arc of justice" implied,
Justice delayed is in fact better than justice denied.
So yes, there's still lots more to be done,
But at least, that work has begun.
***
Here's Dr. King's "how long" speech.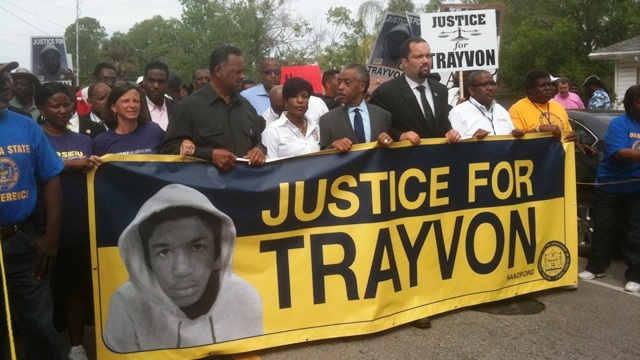 Sphere: Related Content
Tags: History, King, Memorials, Obama, Petitions, Racism, Trayvon Martin
Posted in In honor of, What ails us | No Comments »
Get Music, Movies, and More With SuperPass - 14 Day Free Trial
Stream 7 million songs and download MP3s with free Napster trial

Comments
Leave a Reply
---